Verge is still trying to recover from the bear momentum though the price is trying to gain an upsurge.
Verge coin makes every transaction completely untraceable and is keen on mass adoption. It relies on different I2P protocol which uses different channels for transfer of information for masking the IP addresses. Verge has been a promising coin but has been affected by the crypto market volatility as can been seen from the XVG price variations in the 5-day chart, with the price fluctuating in the small range of $0.0071 -$0.0080.
Latest Statistics of Verge Coin:
As on July 10, 2019, at 5:24:43 UTC, current statistics are as below:
The current market price of XVG is $0.007532
Market Cap is around $117,093,880 
24-hour volume is at $1,686,378
ROI is at a massive > 9000 % at a huge Circulating supply of 15,813,605,209 XVG
XVG to USD Price Comparison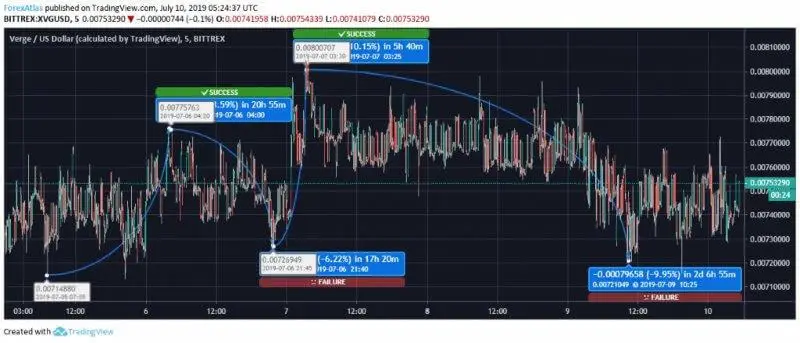 The 5-day XVG price chart is a mixed bad for Verge as the price has been trying hard to be in the upper range, but the market volatility has been pulling the price in the downside direction. From a low of $0.00714880 on July 05, within a period of 20h 55m, the price went up to $0.007757 showing a hike of 3.59%. Verge price then slid down to $0.007269 on July 06 in 17h 20m showing a variation of 6.22%. In 5h 40m, the price went up by 10.15% to $0.008007 on July 07. In 2d 6h 55m on July 09, the price went again in the bearish mode at $0.007210, the variation was to the extent of 9.95%. The current day's price of $0.007532 is slightly higher by 4%. This shows that though XVG price is trying the move up, the bear sentiment in the crypto market is pulling it down.
Verge Price Prediction:
XVG price is still reeling under the bear market trend of the crypto market though its price has been trying hard to pull itself out of the bear mode. Analysts expect this trend to continue well into the year-end. Only time will be able to tell whether Verge will manage to get out of the bear momentum and move ahead.
Conclusion:
Investors need not invest in the current scenario. It looks like the market will take some more time to stabilize though Bitcoin has been showing bullish trend off late and letting the price of other altcoins also rise accordingly, still better to wait and watch.