ETN seems to have flushed the 51% attack risk on their network. This week, they launched a major upgrade that speaks about new standards of high security. This news might invite many other users to switch to Electroneum platform for money transactions.
ETN to USD Price Comparison
Currently, the ETN price is trading at $0.005395 at 05:54 UTC on 12th July 2019. The other calculated factors are as follows:
Return on Investment: -94.29%
Total supply/Circulating Supply: 9,731,471,611 ETN/ 9,731,471,611 ETN
24-Hour Volume: 284,413 USD
Market Cap: 52,498,646 USD
7 Day high/low: 0.007045 USD / 0.004599 USD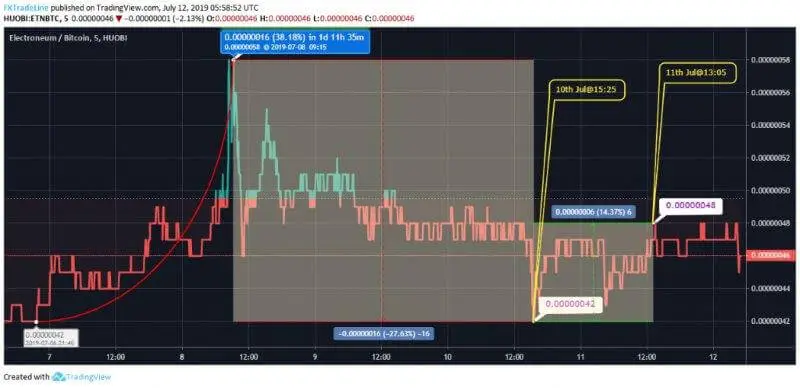 In the past 5 days, the trend was quite interesting to notice. On 6th July at 21: 40 UTC, the ETN price was trading at the lowest of 0.00000042 against BTC value. The value escalated in the upward motion by 38.18% on 8th July at 09:15 UTC with a trading value of 0.00000058, which was quite remarkable.
However, the value circulated in the opposite direction after that. On 10th July at 15:25 UTC, the value dropped by 27.63% trading at 0.00000042. From then, value saw an upsurge by 14.37% on 11th July at 13:05 UTC time trading at 0.00000048. However, the value now is decreased to 0.00000046 from then.
Electroneum Prediction and Conclusion
ETN price has been dropping since the day it was partners with the exchange. However, the value now is trading in the good direction. With new updates and announcements, Traders might think of Electroneum as a secure platform for their transactions. This might increase the supplies in the network pretty soon!
As of now, existing traders might want to hang in there and earn some profitable returns from the same. We might see a good future of Electroneum soon. And the valuation might touch down 0.00000075 BTC by the end of 2019.