It was recently tweeted by the TRON foundation with the recent updates with opera browser. Opera has added support for Bitcoin and TRON blockchains for the application of cryptocurrency wallet in the beta version for Android. This functionality will help the users to successfully pay and receive tokens of TRX and TRC10, which will enable the transaction through webpages.
TRX to USD Price Comparison
Considering the data of last 5 days, the value on 6th July at 12:05 UTC time was trading at $0.0318 which escalated by 11.68% on 8th July at 08:40 UTC time trading at $0.0356. The value after that saw a drop to the red zone by -12% on 10th July at 14:55 UTC time with a trading valuation of $0.03134. Today the value touched down to the lowest of $0.027, which was a drop by -12.63% at 04:50 UTC time.
The value now has slightly increased by 2.9% from then.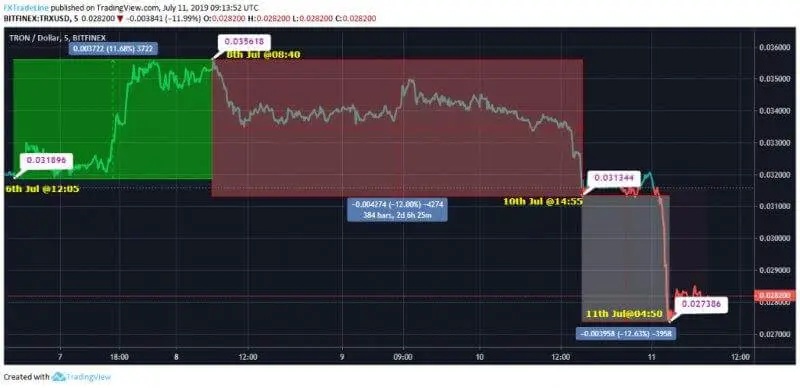 Current Statistics of Tron:
Return of Investment: 1272.44%
24 Hour Volume: 729,625,498 USD
Market Cap: 1,877,235,903 USD
Total supply/Circulating Supply: 99,281,283,754 TRX/ 66,682,072,191 TRX
7 Day high/low: 0.035523 USD / 0.27540 USD
Tron Price Prediction and Conclusion:
With TRX coin bending to the bearish zone, it might be the right time for new traders to jump in! TRON price was seen unexpected dips and jumps, and soon enough it might trend in the upward motion resulting in good profits. But only time will tell how which direction the motion moves. By the end of 2019, it might seem that TRX price may trade between $0.007 and $0.075 resulting in some great numbers and returns.