There is no improvement in Verge price as the bears are continuing to push the price in the lower range.
Verge coin is popular with users due to its privacy and anonymity features. There is no change in the crypto market with the bears ruling ground. Verge being a promising coin has not been able to beat the market and the price has been fluctuating and then sliding downwards. It looks like the XVG price is expected to slide down further as seen from the 24-hour chart which shows the price in the range of $0.0063 – $0.0071, with the current day's price moving in the flat range of $0.0066.
Latest Statistics of Verge coin: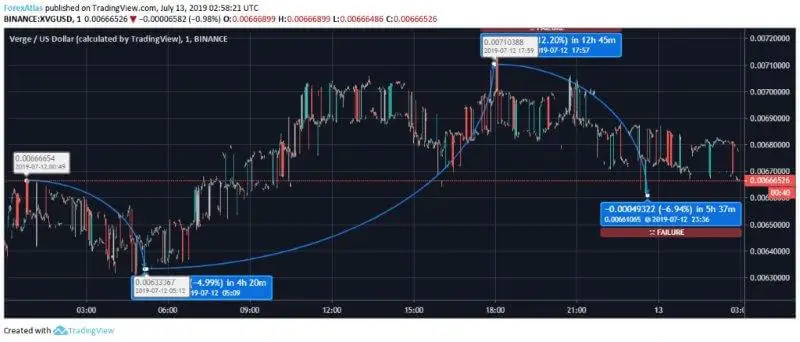 As on July 13, 2019, at 2:58:23 UTC, current statistics are as below:
Verge price is trading at $0.00666526
Current market cap is around $107,466,038 
24-hour volume is at $1,423,560
ROI is at a huge > 9000% at a good Circulating supply of 15,819,035,679 XVG
XVG to USD Price Comparison:
The last 24-hours chart for Verge coin indicates that the price variations continue to be on the downward slide as the market has continued the volatility. On July 12, the XVG price was at $0.00666. It went down to $0.006333 within 4h 20m; the downward slide was to the tune of 4.99%. The price then took the upward momentum and rallied to $0.00710388 to the tune of 12.20%. But by the end of the day, the price slid to $0.006610 in 5h 37m to the extent of 6.94%. Today, the price is flat at $0.00666526, indicating the bears are pushing Verge price on the downslide.
Verge Price Prediction:
Verge though a friendly and promising platform has been at the receiving end of the market volatility with the prices not able to recover to the upper level. The bears are continuing in their pursuits and expected to do so for some time. As such, nothing much can be expected from the price of Verge, and it is expected to go down further.
Conclusion:
Investors should not venture into any investments in XVG coin in the current market scenario. The price has been continually on a downswing and bears expected to push it further down.