The new Ledger Monero app version 1.3.1 is released. This app is available for the Nano X as well.
The new XMR app is compatible with the Monero GUI v0.14.1.0 'Boron Butterfly'.
Current Statistics:
On July 05, at 07:29 UTC, Monero is currently trading at $86.301.
At the same time, Monero price (BTC) is 0.00795918 BTC with a market capitalisation of 1,476,019,273 USD.
Monero is currently ranked at 14th position in the crypto market.
The current Circulating Supply of the coin is 17,070,711 XMR.
Additionally, the coin fetched 3,395.34% Return on Investment.
The 24-hrs trading volume in Monero (XMR) is 129,312,688 USD.
Comparison: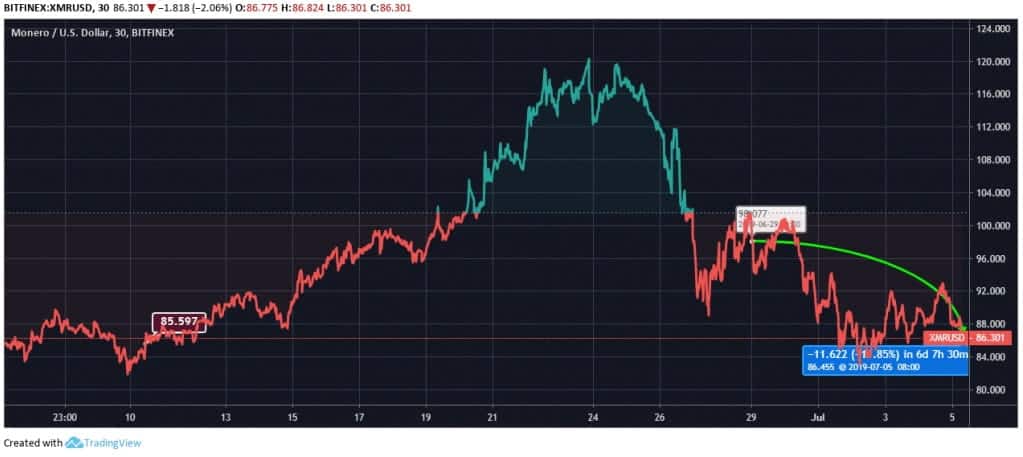 On June 10, the altcoin was trading around 85.597 USD. However, today after 25-days, Monero (XMR) is trading with a slight hike of 0.82%. Nevertheless, the weekly trading presents a contradictory story. In 7-days of trading, the digital currency has gone down by 11.85%, from the market value of $98.077 on June 29.
Prediction:
According to our prediction, Monero will soon make a bounce back to trade above $100 mark. As far as, the long term is concerned, it might trade around $150 by the end of the year. At the current level, the crypto has immediate support level at $85.93 and the resistance level at $91.397.    
Conclusion:
Although the stiff falling price of Monero is at hold now, the coin is trading in the bearsih zone as of now. A number of new wallets, to store Monero, is released recently and one thing is clear that the trading volume of the coin is going to go up. In a recent survey, Monero is the 2nd most sought after privacy coin after Zcash. As far as trends are concerned, it's better to hold your horses and let the market do its things for the next couple of days.