Recently has entered into a tie-up with finance experts in the Middle East.
Over the past 24-hours, the price of Ethereum has managed to stay steady.
Ethereum is the world's leading programmable blockchain platform that has smart contract features. The coin has the largest and the most active user base on the entire blockchain platform. Recently, Ethereum has partnered with finance experts in the Middle East towards securing investments in the region. This move should work wonders for the ETH coin. The current market fluctuations have had its bearing on the price of Ethereum like other altcoins in a negative way. Still Ethereum has managed to hold its ground as seen by 24-hour price movements.
Current Statistics of Ethereum:
As on July 08, 2019 at 5:43:00 UTC, current statistics are as below:
The current market price of Ethereum is $305.128
Market Cap is $32,549,718,659
24-hour volume is at $8,277,738,032
ROI is more than 9000%
Circulating supply is at 106,808,884 ETH
ETH to USD Price Comparison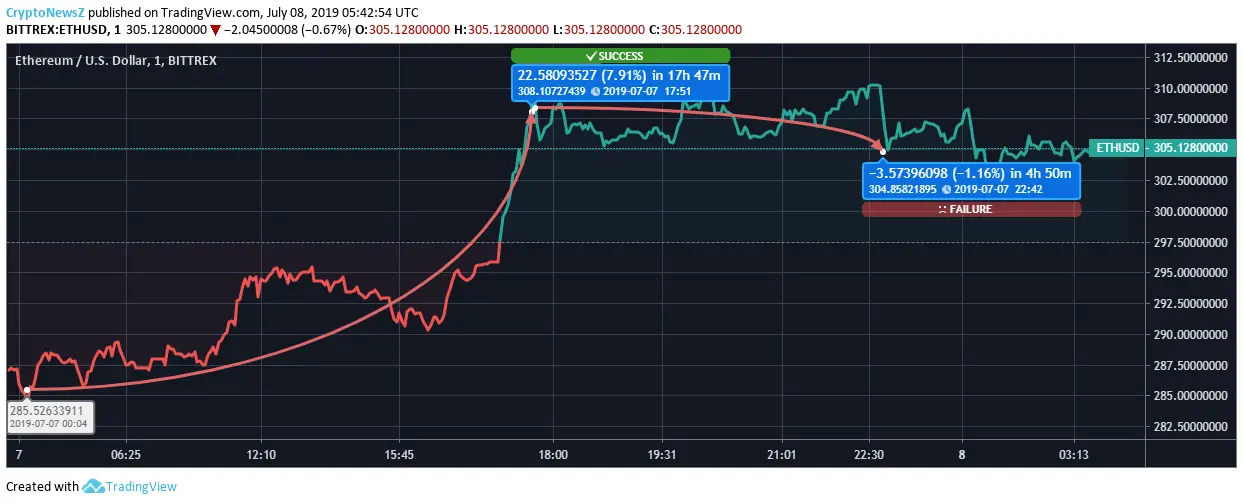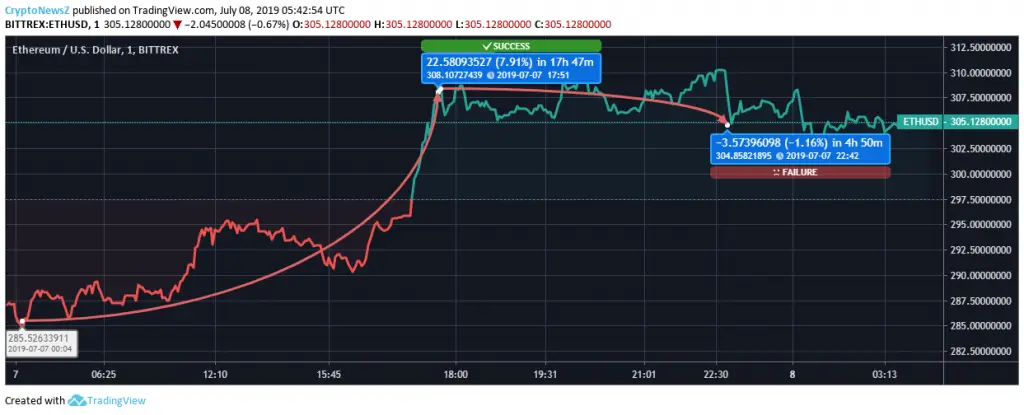 The price chart for Ethereum over the past 24 hours shows a steady variation. On the wee hours of July 07, the price rallied from a low of $285.526 to a high of $308.107 within 17h 47m, showing an upward variation of 7.91%. The price maintained its stand during most of July 07 and slid only slightly to the extent of a negligible 1.16% within 4h 50m at $304.858. The price of ETH has today gone up to is $305.128, which is an upward movement to the extent of 0.08%. The price of ETH has managed to stay in a steady zone compared to other altcoins in the current market volatility.
Ethereum Price Prediction
Ethereum is one of the most promising coins in the cryptocurrency market and has always managed to reach out to the expectations of its users and investors. Even in the current market trend, the price of Ethereum has stood steady and even shown the possibility of earning a profit. Even in the current market scenario, Analysts are positive for the coin and expect the coin to reach a target of around $500 by the year-end.
Conclusion
The current market volatility should be an indicator for investors to stay away from the markets, but in the case of Ethereum, there is hope for long term investors, who should hold on to their investments. Even short-term investors if trading wisely can gain as Ethereum price has taken a somewhat steady stand even in this volatility.