ETH is one of the most promising cryptocurrencies on the blockchain
Ethereum price movements have shown a short-term upward movement
Ethereum is the second largest cryptocurrency, which is very popular on the blockchain platform. The price movements in Ethereum over the past 5-days point towards a short-term bullish trend in spite of the current ongoing volatility in the crypto market. This should be good news for the Ethereum community.
Latest Statistics of ETH
As on July 09, 2019 at 4:30:10 UTC, current statistics are as below:
The current market price of ETH is $314.45
Market Cap is around $33,854,278,203
24 h volume is at $9,664,461,866 
ROI is > 9000% which speaks volumes of the huge Return on Investment
Circulating supply is at 106,822,529 ETH
ETH to USD Price Comparison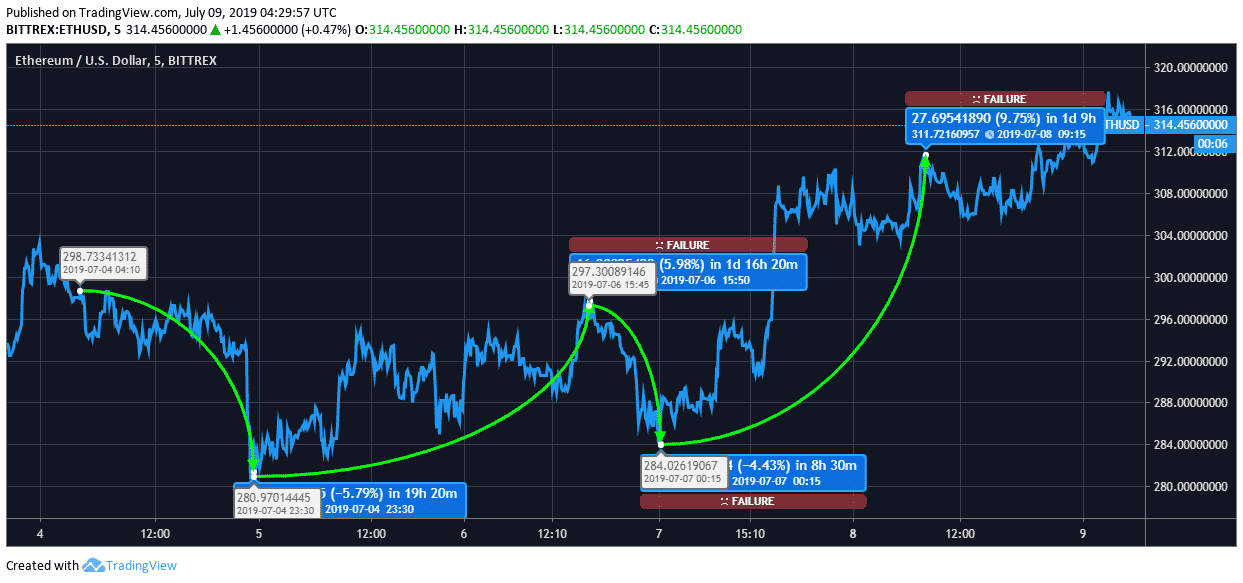 The 5-Day price comparison for Ethereum shows a lot of price variations with the price trying to pick up and move upwards. From a high of $298.733 on July 04, the price fell to $280.970 within 19h 20m, the downswing was to the extent of 5.79%. In a span of 1d 16h 20m on July 06, the price somewhat picked up to the extent of 5.98% at $297.301. Within 8h 30m on July 07, the price had a tumble to the extent of 4.43% at $284.026. On July 08, the price rallied to $311.722, the movement being 9.75%. Today the price is at $314.456, which is higher to the extent of 0.88%. The price of ETH has been moving in the range of $280 – $314, indicating that Ethereum is trying hard to get out of the bear mode currently prevailing in the crypto market.
Ethereum Price Prediction
Ethereum has been one of the robust coins on the blockchain platform, with the prices showing a desire to get back on track in spite of the current market sentiment. Currently, it has been going through a short-term bull phase bringing relief to its investors. Analysts are hopeful that Ethereum will be able to consolidate its position although crypto market is unpredictable. They feel that Ethereum's strong foundation and popularity should help it sail through the tough times and have maintained the target price at around $500 for the year-end.
Conclusion
Investors can now relax a bit and watch the developments in Ethereum with interest. Ethereum, with its future prospects, is a good bet for the long-term investor. Speculative and short-term investors should trade with caution. Though at present, ETH has shown a short-term bullish trend, crypto market volatility could turn the game any time.