Shibu Inu's price increased significantly with lots of inflows in the lower level, which suggests a potential breakout on the price chart. It was started from a joke and is known as a Dogecoin Killer. It is ranked 15th in the list of cryptocurrencies by market cap.
This Ethereum based ERC-20 token has become one of the most discussed and popular cryptocurrencies in the world. Many people treat it as an asset and alternative to Dogecoin because they have similar characteristics with the same dog breed on the logo.
It has a total supply of 589,735,030,408,323, but 50% of the coin is locked in Uniswap, and the rest 50% are circulating in the market. Interestingly the team behind SHIB sent 500 trillion tokens to the co-founder of Ethereum.
Indeed, it is backed up by a huge community and developers who are working consistently behind the success. Moreover, they developed a decentralized exchange called ShibaSwap. All their projects are in a developing stage, so many analysts think the valuation of this coin is unjustified.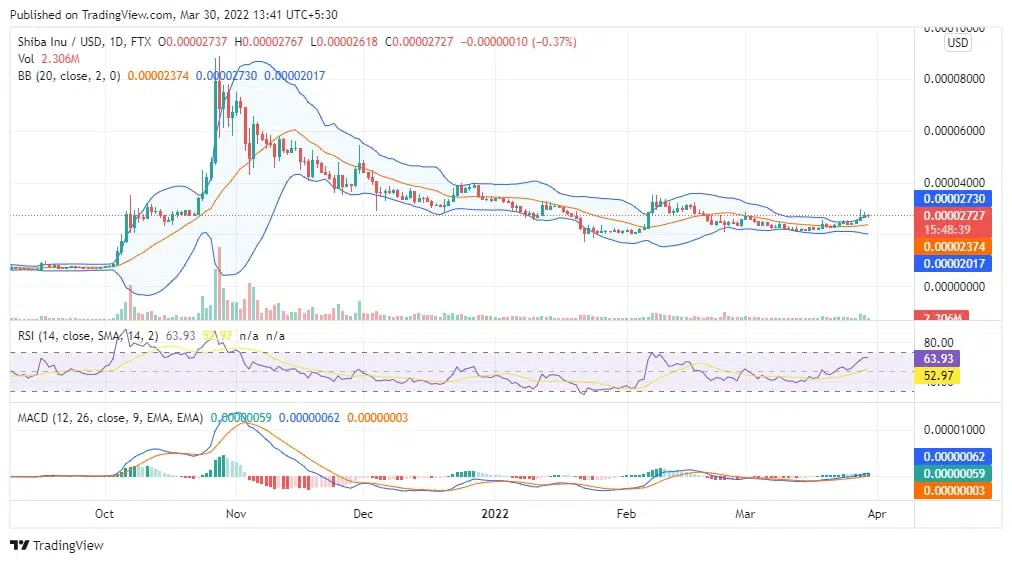 At the time of writing this post, SHIB was trading around $0.000027. In the short term, the coin looks bullish, but it will face strong resistance around $0.00003, and then it may retrace back to the previous support level.
After consolidating around a support level of $0.000022, it turned bullish, and it might go upward. On the daily chart, both MACD and RSI indicators are bullish; candlesticks are forming in the upper range of the Bollinger Bands, which suggests a strong bullish momentum in the market. Visit here to know more details about the future of the coin and the possible Shiba Inu predictions.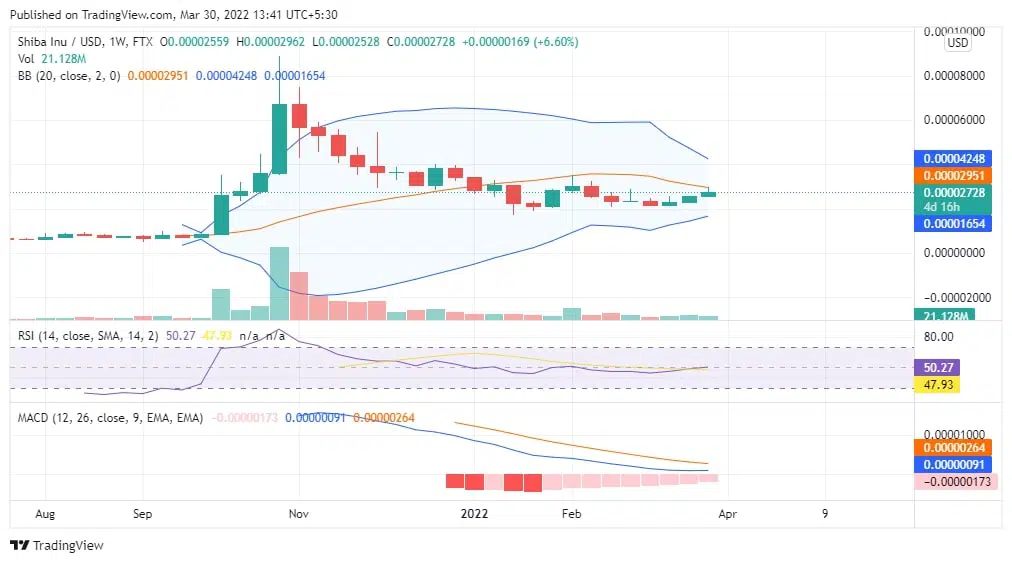 On the weekly chart also, the situation is very similar, but some technical indicators are not bullish. There are three green weekly candles formed in the lower half of the Bollinger Bands, but MACD and RSI indicators are not strong enough. Though we think, as a meme coin, it has the potential to provide a good return in a day.
It is a very popular coin along with Dogecoin. If you are active in social media and track news, you should invest in Shiba Inu because it Is very volatile and generates huge returns within a few hours. You should not invest for the long term because it depends on news, and it does not have strong fundamentals.