Overview
AnalystQ can be described as "Q", a well-known online cryptocurrency and commodity trading platform which was well known for its speed, ease of use, and responsiveness. AnalystQ was founded in February 2020, and it functions in 170 countries across the world. AnalystQ offers the traders several new trading options and also provides them with many educational materials so that they can use these tools to learn about cryptocurrency trading. Besides, Cryptocurrency trading is always prone to high market risk because of its volatile nature.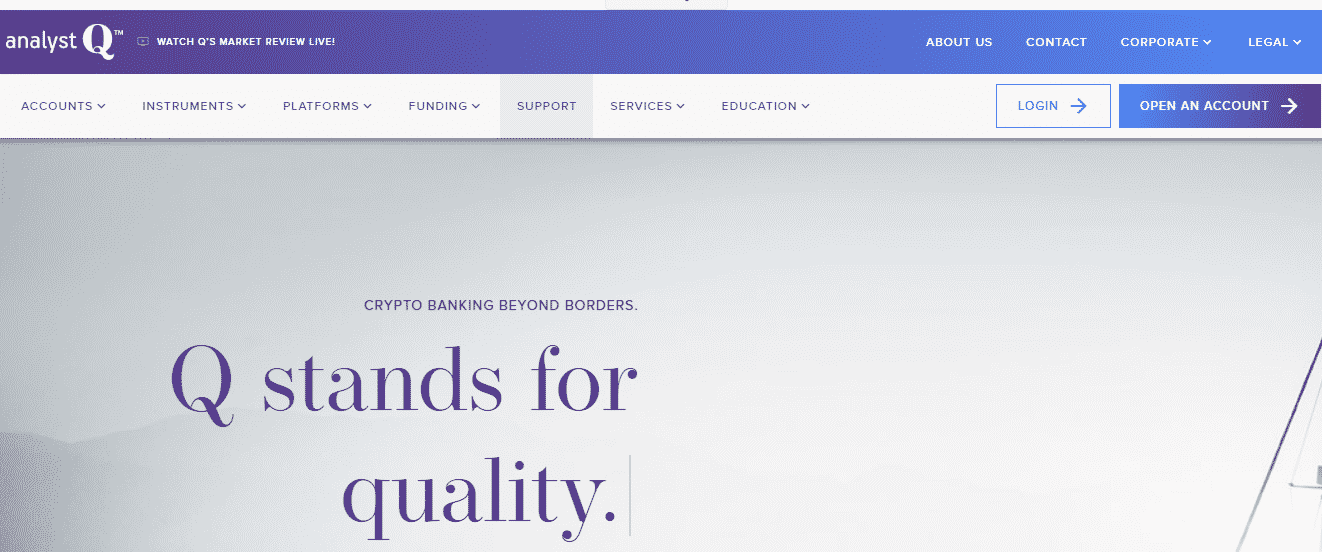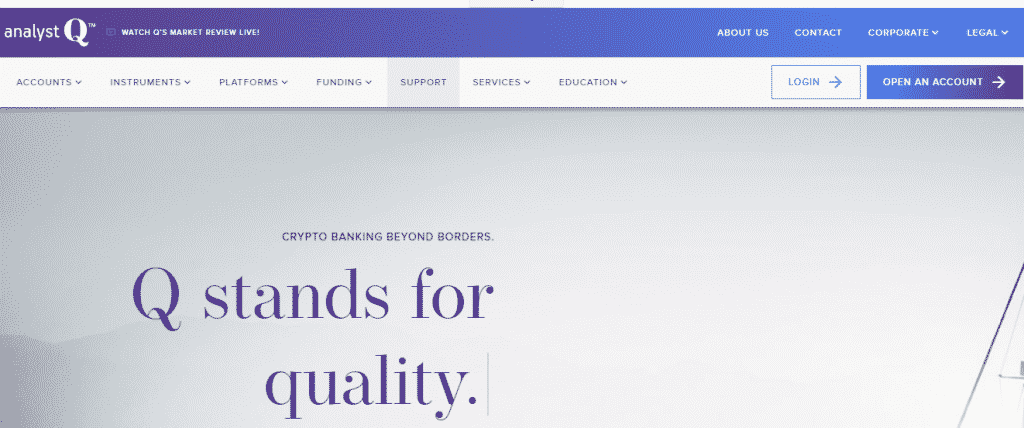 What is AnalystQ?
AnalystQ can be described as one of the most popular and leading online platforms, offering several types of accounts to the traders. The traders can use any type of trading account as per their trade preferences. By using its customized training intuitive trading tools, this platform strives to earn their client's confidence and trust.
As per our AnalystQ review, this broker offers three types of accounts where the trader can choose anyone and register on the platform. It offers over 1600 assets that can be traded on the platform; it also offers various online trading tools for each account.
The team behind AnalystQ has the vision to offer a platform for its traders around the globe so that they can have a well-constructed trading portfolio. They can also use this platform to trade commodity, currency, and cryptocurrency markets profitably to make more money.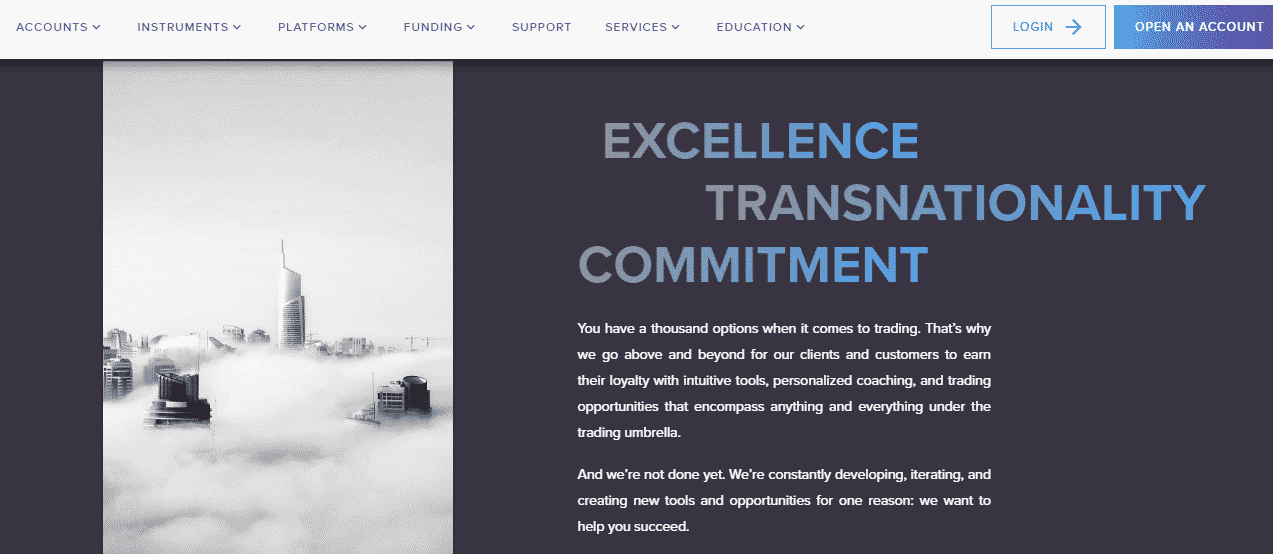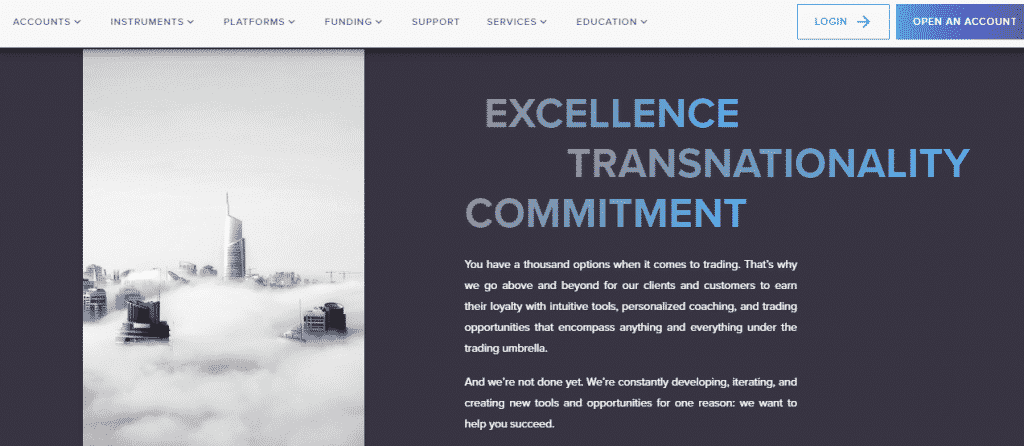 Features
One of the foremost features of AnalystQ is it provides the highest number of instruments for trading that is not offered by anyone of the brokers. This online broker allows its trader to trade in energy options, in both renewable and nonrenewable types, crypto-fiat currency pairs, commodities, metals, and cryptocurrencies. Besides, this broker does not provide Forex trading.
As per our review, If you want to start trading on this platform, the first step would be to register on the platform. A verification link is sent to the email address, and after confirmation, they need to add a minimum deposit on the trading platform.
The traders can fund their accounts by using only Bitcoin. Besides, it does not accept any other method as a means of payment. This platform offers an e-wallet so that Bitcoin can be added to that wallet.
This Platform provides MetaTrader 5 trading platform. MetaTrader 5 is the advanced and most powerful trading software that is currently available. It also offers technical indicators, advanced packages on charting, exhaustive backtesting framework, and different types of Expert Advisors.
Working of AnalystQ
If you want to start trading with this broker, the first step would be to create an account. For this, the trader needs to visit the website and fill out the registration form; a verification link is sent to their email address. The trader should check their email address, and after confirming, the account is created.
The next step would be to add money to their account by using only Bitcoins as this broker analystQ does not accept any other form of money as modes of payments such as Bank transfers, Fiat money, debit card or credit card.
The traders should keep in mind that they are supposed to add the only Bitcoin in the e-wallet provided by the AnalystQ platform.
When we checked the AnalystQ website, it does not offer either forex trading or forex currency pairs. A bit of investment advice, the trader should only trade with money they can afford to lose.
Deposit and Withdrawal options
As per our AnalystQ review, this platform only supports Bitcoin as a deposit or withdrawal method and not any other form as payment method. Also, deposit and withdrawal fees are applied to the transactions, which are already set on the platform. Moreover, withdrawals can only be made with Bitcoin and processed in 3 to 5 working days.
Inactivity fees
AnalystQ trading charges an inactivity fee if the cryptocurrency deposited to an account is not used or which remains inactive for a period not less than two calendar months.
Types of Accounts
As per our review, AnalystQ provides three types of trading accounts. Each account has a minimum deposit. They are given below-
Primary Account
Professional Account
AutomatiQ account
The primary account is classified into 3 types –
Standard Account – The minimum amount of deposit is equivalent of 500 USDT of Bitcoin
Education Account – The minimum amount of deposit is equivalent to 5000 USDT of Bitcoin
Specialty Account – The minimum amount of deposit is equivalent to 25,000 USDT of Bitcoin
The professional account offered by the AnalystQ platform provides an intuitive and great user- interface and also provides a great educational learning opportunity that helps the users to place profitable trades on the platform to make more money.
AutomatiQ account has been developed exclusively for the experienced traders who are well aware of their trading strategies before they start to trade. The maximum leverage that is offered by this platform is 1:300, and it also offers several currency pairs.
Trading Instruments offered by AnalystQ
When we checked the website, AnalystQ provides a supportive platform to trade several instruments like industries, bonds, currency, and several more. This platform provides trading in traditional assets and leveraged cryptocurrencies, and it does not provide forex trading and forex currency pairs.


As per our review, the commodity platform provides traders several risk management tools and training. Some of the commodities include renewable energy sources such as biomass, wind, solar, and geothermal sources. Non-renewable sources include energy, oil, gas, and coal.
This broker provides many currency pairs and real-time analysis; the trader can trade on this platform anytime during the day, on any devices like Apple devices, tablets, laptops, etc.
The most advantageous feature of AnalystQ is, it offers the registered traders a special privilege that they can trade on several cryptocurrencies even though they may not own them. This offers several benefits to the traders, especially for beginners who tend to stay away from the volatility of the cryptocurrency market. They can trade on this platform to execute profitable trades to make more money.
The traders can be able to trade on silver, gold, palladium, and platinum. Also, it offers risk management solutions to safeguard the traders who are trading on these assets.
The traders can trade commodities such as coffee, cocoa, cotton, sugar, and soya beans which are always in demand. Even though these assets involve high risk, it offers huge money as profits when they are traded cautiously.
Trading Platforms offered by AnalystQ
When we checked their website, we found some of the trading platforms offered by AnalystQ, which are given below –


Metatrader 5 is one of the advanced and latest tools that offers several advantageous features across several financial markets from cryptocurrency, futures, and several more. It is available on whichever browser or device; MetaTrader 5 offers several free of charge and paid opportunities.
By making use of Web traders, the user can very easily trade on the online trading platform. If you are a Beginner, it provides straightforward and simple trading solutions by offering educational resources that are best suited for any trader.
This broker offers an iPhone trading app for its traders. By using the iPhone trading app, the traders can conveniently trade anytime, so that they would never miss an opportunity to trade to make more money. This platform offers responsive interface design and intuitive layout for the benefit of its traders.
As per review, AnalystQ Tablet trading app helps the traders to trade with the swipe of their finger. All the trade positions can be viewed in perfect detail. It also offers current prices and the latest market data, so that the trader can stay on top of the trading market with the fresh updates on the market conditions, to take advantage of them.
The Android trading app was developed by keeping in mind the needs of both new and experienced traders. It offers the traders in monitoring real-time trade data and tracks several trades by getting immediate notifications and updating them about the latest trends.
Services offered by AnalystQ


This broker provides several trading services for every trader, whether they are new or experienced. Given below are the various services offered by AnalystQ website –
Personal Relationship Managers
Personal Trading Courses
Dedicated Sales Trader
In-House Analyst
Customer Support
This broker offers dedicated customer support 24×7. Traders can reach the customer support team through their website. Few methods of contacting them are given below –
Live Support
Email Support
Telegram Support
WhatsApp Support
Phone Support
Wrap up
To conclude, AnalystQ platform offers more than 1600 assets which is the highest when compared to any other online broker. This is the best platform if you want to trade cryptocurrencies. It also offers several educational webinars, training to help the new traders to benefit from trading cryptocurrencies. Moreover, it offers dedicated customer support 24×7 where the traders can touch base with them if they have any problems or issues. But, one has to keep in mind that this broker does not offer forex trading on its platform.
Risk Disclaimer- All rights reserved by the platform for its features and functionalities.
FAQ's
1. What is the Deposit and Withdrawal Method for AnalystQ?
Ans. This broker offers only Bitcoin as a deposit and withdrawal method, and it does not offer any other type of exchange like credit or debit card, bank transfer, or wire transfer.
2. Does AnalystQ offer leverage?
Ans. This brokerage offers leverage of 1:300, which is considered as high leverage when compared to other brokers. Even though high leverage can make huge money, if the market fluctuates, the trader ends up with heavy losses.
3. What are the various types of instruments that can be traded on the AnalystQ trading platform?
AnalystQ platform allows its traders to trade on various instruments like bonds, indices, ETFs, commodities, and cryptocurrencies to make more money. In this platform, the traders need not own any cryptocurrencies to trade them.
4. Does AnalystQ have a mobile app?
Yes, this platform offers a mobile app where the traders can access the trading platform on the go and they trade anywhere and anytime.