InvestXE is a trading platform that operates in more than 16000 markets around the world. The highpoint of the site is that it is an optimized platform where both beginners and seasoned trading professionals can trade to their full potential. The reason for this is that Invest XE offers a base where traders can function with ease and not face the complexities usually associated with other trading platforms.
As this InvestXE review will show, the site offers several options for traders, ranging from the types of accounts that can be opened to the types of trading platforms available and the assets and instruments that can be traded here. This post's purpose is to go into the many intricacies of InvestXE and what it has to offer to the traders.
Trading Accounts Available at InvestXE
InvestXE offers a wide range of accounts, and you can open one that matches your needs and interests. There is also the matter of the level of trading to be considered. The different accounts have been so designed that as a beginner, you can start with the primary accounts and then move on to the more complex ones depending on the level of your trading expertise. Most critically, all the accounts have great flexibility and can be customized according to your specific requirements.
Given below are the accounts that you can open on the InvestXE platform.
Primary Accounts
These are the accounts containing the essential elements of trading to the more advanced ones with features that will optimize your trading experience.
Standard Account – This is the best account for beginners even though the choice of instruments and assets for trading is not limited. Trade in various markets around the world, and in case of any issues or updated market information, you can always reach out to customer support of InvestXE for assistance. A $500 equivalent value of BTC is required to open a standard account.
Progression Account – Though the progression account will help you trade professionally, it is ideal for moving on from a beginner to a seasoned trader. With this account, traders can increase their knowledge and sharpen their trading skills. You will also get access to the top-of-the-line trading platform MarketPro1.0 and the webinar library of InvestXE free for 3 months. The equivalent of $5000 in BTC is required to open the account.
Advanced Account – This account provides advanced tools and capabilities that are ideally required by a professional trader. InvestXE offers superior customer service and support for holders of advanced accounts, as well as free training at the InvestXE Trading School for 180 days. The minimum deposit required for opening this account is $25000 in BTC.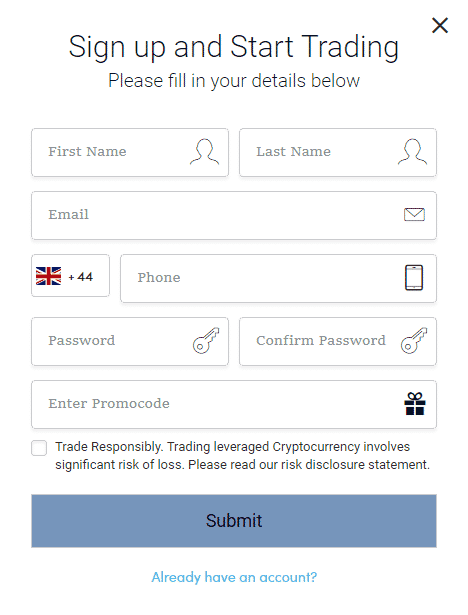 Apart from these primary accounts, there is another set of Professional accounts.
Professional Accounts
The main advantage of these accounts over primary accounts is that holders have continually updated information, and trading signals are sent directly to their phones over WhatsApp or SMSs.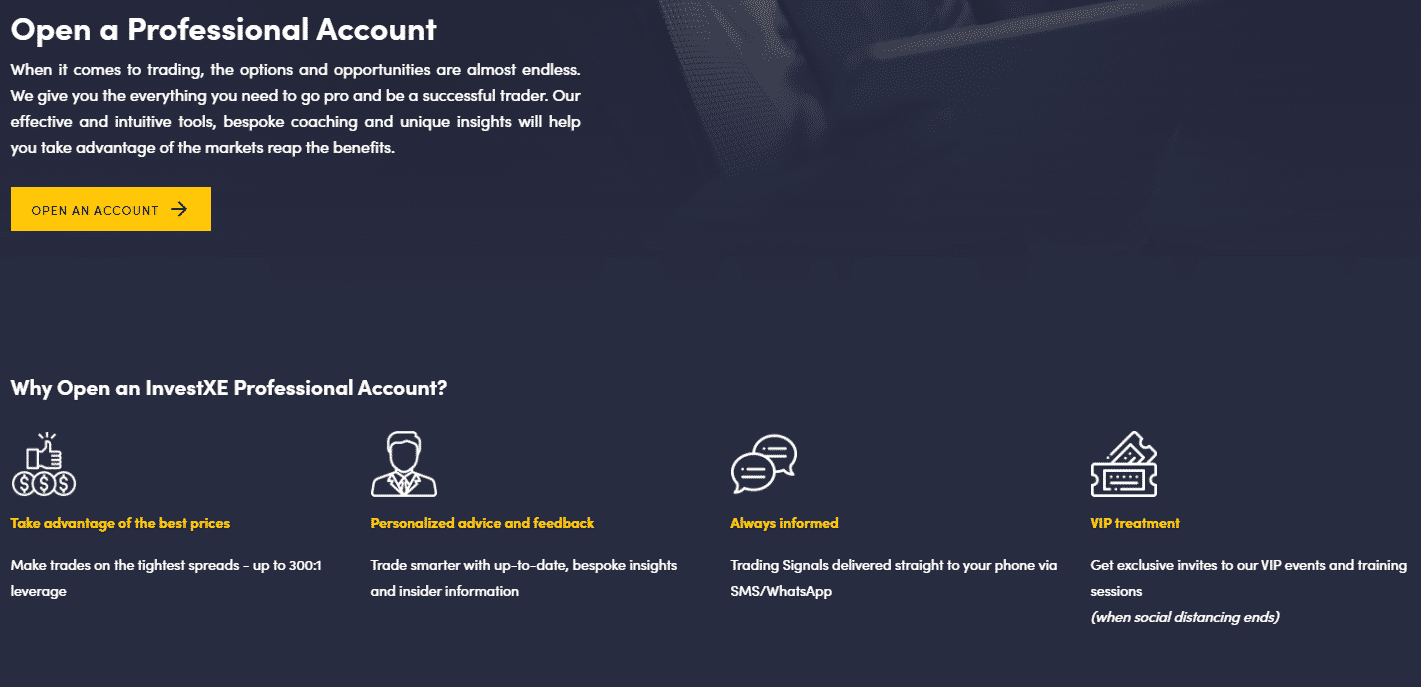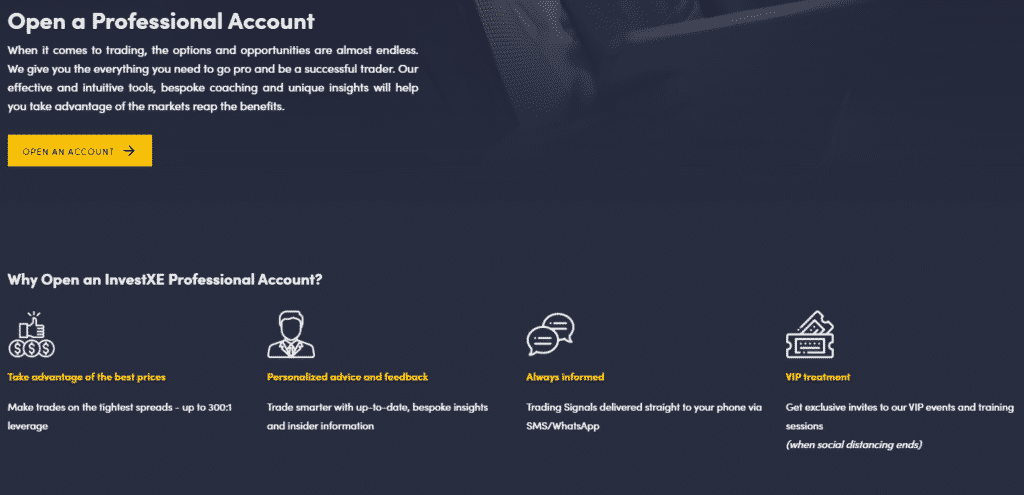 Gold Account – For traders focused on large volumes and big trades, this is the account to open. Apart from access to the MarketPro 1.0 trading platform, investors have a direct hotline to the trading room where experts provide unlimited guidance round the clock. Free membership to the webinar library of InvestXE is included. InvestXE reviews show that a minimum deposit of $75000 in BTC is required to open this account.
Platinum Account – This is the most feature-rich account offered by InvestXE and is specifically suited for professional traders negotiating complex trades. Spreads are tight and exclusive access to VIP rooms is assured. The minimum deposit for account opening is $150000, equivalent to BTC.
AutoXE Account
As any InvestXE review will show, this is an account where traders can operate their accounts and trade to the maximum by taking advantage of automated strategies. It helps to make more money and profits as the trading algorithms are created by professionals based on successful historical data, and you can start and stop the system at any time. You can follow one single automated strategy or a number of them simultaneously to maximize your returns.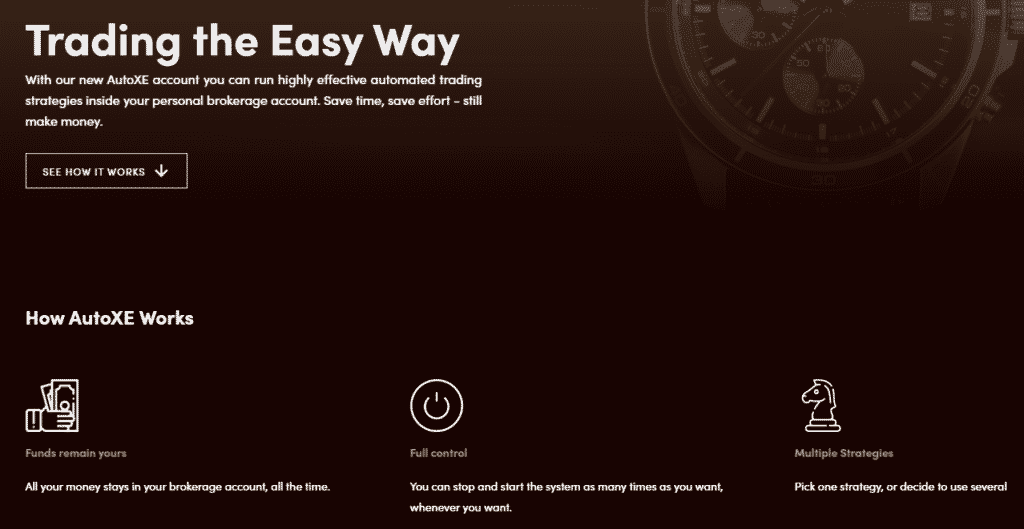 These are some of the types of accounts that can be opened on the InvestXE site.
Instruments for Trading
Invest XE offers a range of assets and instruments for trading on its platform.
Cryptocurrencies – The platform provides lots of insights and information on the crypto world to help you trade efficiently. Further, you don't need to hold cryptocurrencies to trade on the InvestXE.
Currency Options – Trading in Forex and currency pairs is very lucrative, and InvestXE offers a host of options. These include customer support 24×7, competitive pricing, various maturity ranges, and round the clock trading.
Energy Commodities – You can either trade in non-renewable energy commodities such as coal, oil, and gas or renewable ones like geothermal, biomass, solar, and wind.
Precious Metals – You can trade in gold, silver, platinum, and palladium on the InvestXE platform. Since precious metals increase in value, it is a much-preferred trading asset for investors.
Soft commodities – Items that fall in this category are sugar, soybean, cotton, cocoa, coffee, and similar products. Their prices are usually very volatile, but InvestXE experts guide traders so that they can make profits.
The asset choice for trading on InvestXE is vast.
Education
A characteristic of a superior trading platform is the training and education programs it provides to increase the market knowledge and trading skills of new and seasoned traders. An InvestXE review proves that the site is well up to competitors in this regard. Here are some of the courses offered.
Educational Courses – InvestXE offers educational courses on trading intricacies that cover commodities, indices, trading strategies, stocks, crypto leveraging, and more and is useful for both beginners and professionals.
Online Trading Courses – You learn about various aspects of trading through webinars conducted by top industry professionals and experts covering all instruments and assets available on the InvestXE platform. An I-click will take you through every facet of virtual learning.
Personal Coaches – Traders on InvestXE benefit from personal coaches who give a better overview of the trading features. You can get all issues resolved through personalized support in a one-to-one environment.
All this guidance will enable you to pick up the ropes about trading quickly.
Trading Platforms
InvestXE reviews show that there are several trading platforms provided by InvestXE.
Android Trading App – The app provides all the trading features and benefits of the regular trading site, and you can trade on the go.
iPhone Trading App – Like the Android app, this app also offers all the features and functionalities of the large screen laptop and desktop sites.
Tablet Trading App – Get all updated market information and data, live prices, and the latest trends, and trade like a pro on this app.
MarketPro 1.0 – The leading trading platform on InvestXE, MarketPro1.0, features assessing markets in real-time, quick access to developers, currency options VPS via virtual hosting, and advanced automated trading algorithms.
Web Trader – With simple features, it is mainly a platform for beginners looking to pick up their trading skills. You can browse historical trading data and check on various risk management options and tools.


All these platforms offer an exceptional trading experience.
Crypto Funding
This is a unique feature of InvestXE. You can leverage crypto trading without depositing funds and make high profits. You can also optimize crypto options and avoid the volatility associated with crypto trading.
InvestXE Services
A range of services for traders are offered by InvestXE
Dedicated Analysts – Get insightful tips and advice from expert in-house analysts to navigate through the pitfalls of trading in any instrument or asset.
Sales Traders – Sales traders are available to help you handle the sales, funding, and admin functions and increase your knowledge and skills.
Personal Relationship Managers – Get dedicated help from personal relationship managers to understand the complexities of trading and be informed about the trades to opt for.
Personal Trading Courses – Enroll in specialized trading courses provided by InvestXE and get a better grip over the finer aspects and intricacies of trading.
These superior services are usually not available on most trading platforms.
Customer Support and Services
The customer support and service is of exceptional quality on InvestXE and offered through various channels like phone, telegram, WhatsApp, and email. All issues related to technical and trading aspects are quickly resolved, and customers can reach out to the Analyst Desk, Trading Desk, and Compliance Desk round the clock on all days.
Conclusion
InvestXE review shows that it is one of the best trading platforms both for beginners and professional traders. You get technologically advanced features and tools to work out optimized trading strategies and even take the help of automated algorithms to do so. There are many assets and instruments that you can trade in utilizing the global reach of the platform to maximize returns on investments. Overall, InvestXE provides a rich and rewarding trading experience.